CPA SERIES 7.5-20HP
Tank Mounted Air Compressors / Floor Mounted / Tank Mounted With Dryer
Tank-mounted air compressor
Tank Mounted Air Compressors are especially suitable for new or independent installations where compressed air with a low noise level is needed. The unit consists of a compressor and tank.
Floor-mounted air compressor
Especially suitable for installations near which compressed air is needed or as an extension to existing installations.
Tank-mounted with dryer
Especially suitable for installations that need to produce compressed air with a low dew-point. The unit consists of a compressor, a tank and a refrigerating dryer using R 134 gas: it features a dew-point indicator and timed condensate discharge. When oil-free compressed air is required, the unit can be fitted with a series of de-oiling filters. Features:
Industrial technology compressors
High quality in design, components and manufacturing
Factory tested complete compressed air system use of world class rotary screw elements, designed for continuous operation
High quality manufacturing standards, make the CPA compressor a highly reliable compressed air system
Technical Data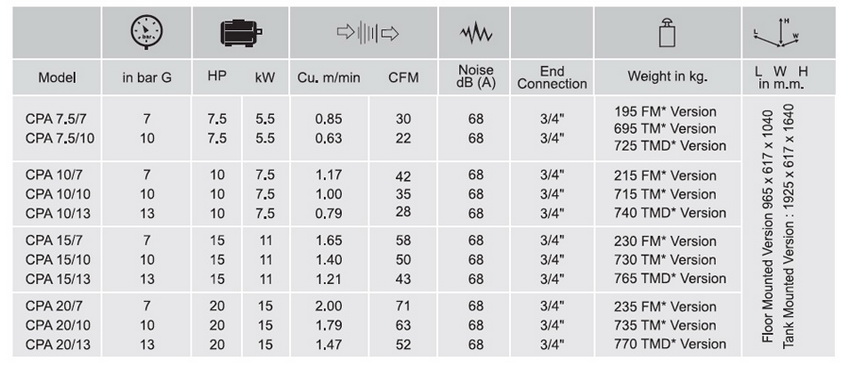 Note:
Unit performance measured according to ISO 1217 Ed 3 Annex C. 1996.
Noise level measured according to Pneurop / CAGI PN8NTC2