AQUA SAVER-GAS SERIES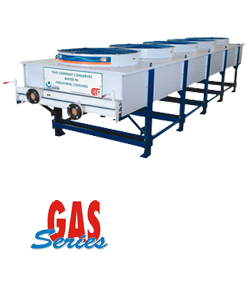 Applications
Water Cooled Compressor Cooling
Hydraulic Power Pack Cooling
Plastic Injection Moulding Machine Cooling
Aluminium Die Casting Machine Cooling
Induction Furnace Coil & Electrical Control Panel Cooling
Functions & Features
Casing :
Built to last with corrosion resistant bright GI / aluminium sheet. The casing is divided by baffles, into individual fan sections, to ensure proper air distribution through the coils and maximize efficiency at part loads.
Coils :
Constructed with Copper tubes and Aluminum fins for maximum performance. Coils are leak tested at 300 psig, dehydrated, evacuated, and sealed prior to shipment, to ensure safe reliable operation.
Fans :
Made from durable aluminium / FRP and dynamically balanced for quiet, vibration free operation.
Fan Motors :
415 Volt, 3 Ph motor, IP54 and mounted on rigid galvanized steel supports.
Single and Dual Pump Module*
The module comes complete with industrial grade, close-coupled, centrifugal pumps. The pumps are mounted on a common base and include inlet and discharge piping with throttling, isolating, and check valves.
Electrical Controls*
All electrical components are located in a weather proof enclosure which is integral to GEM Aqua Savers. A built in disconnect is provided as a standard feature. Installation costs are greatly reduced. Fan cycling is also provided as an energy saving feature on all multi fan coolers.
Energy Saving Control Panel*
GEM Aqua Saver series heat exchangers include on/off switch, Power on indicator, fan motor starter and fan cycling thermostats. Fan cycling saves energy and provided temperature control under varying load and ambient conditions.
* Optional
* Product Design and specifications are subject to change due to constant upgradation.

FOR TECHNICAL SPECIFICATIONS AND SELECTIONS DOWNLOAD THE CATALOGUE
Click Here
Download brochure of AQUA SAVER-GAS SERIES