COMPRESSED AIR DRYER 2KD+SERIES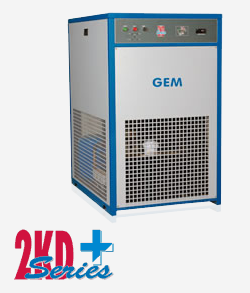 SALIENT FEATURES
Compact Design
Low Pressure Drop
Consistent Dew Point
Power Saving
High Quality Finishing
Non-cyclic System
More Reliability
Ease of Installation
Environment Friendly
Reduced Maintenance
UNIQUE CO-EX HEAT EXCHANGERS
Our CO-EX Exchanger is a COAXIAL Heat Exchanger. It performs as a Precooler and Evaporator. Our design maximizes exchanger efficiency by using Copper tubes in a coiled TUBE-IN-TUBE arrangement. Tube sizes are carefully chosen so that fluid velocities are maintained through the tubes. This promotes turbulence break up boundary and maximizes the heat transfer rate with minimum pressure drop. To further increase heat transfer efficiency, a Counter Flow pattern is used that achieves the maximum temperature difference. In addition, exchangers are fully encapsulated by PUF insulation to prevent the loss of cooling effect.
SPECIAL FEATURE OF CO-EX
Full copper corrosion free heat exchanger.
Non-fouling exchanger.
Co-Axial arrangement, tends to minimize space requirement.
Minimises power consumption
No leakage.
Low pressure drop.
High efficiency
MOISTURE SEPARATOR
Cyclonic / centrifugal type moisture seperator specifically developed by GEM for condensate removal in 2KD+ Series Dryers. Designed to achieve the highest separation efficiency and maintain this efficiency from low flows to well above the rated capacity.

Efficient separation ensures that liquid condensed in the Evaporator is not carried over by the outlet air, avoids raising the outlet Dew Point. Separator is encapsulated within PUF insulation to prevent re-heating of air before separation occurs.
DEPENDABLE AUTOMATIC CONDENSATE DRAIN WITH THE FOLLOWING FEATURES
Adjustable electronic timer controlled, Pilot operated, compressed air powered, Auto drain valve. Positive discharge of even heavily contaminated condensate.
NON-CYCLIC REFRIGERATION SYSTEM
HOT GAS BY-PASS Value automatically maintains temperature across a wide range and ambient conditions without the need any adjustments. High pressure by-pass refrigerant gas is introduced after the expansion value to ensure temperature control. Direct expansion, non-cycling allows rapid response to changes in operating conditions.
EASE OF INSTALLATION
All dryers are shipped pre-piped and wired, ready to install and operate, installation is made easy with conveniently located Air and Drain connections.
ELECTRICAL
In accordance with applicable codes Compressors are protected with overloads and safety trips.
ENVIRONMENTAL
GEM DRYERS are designed for low energy usage, helping to conserve the Earth's Resources and minimize pollution. Refrigerants are with low ozone depletion factor, and thereby making GEM dryers' 'OZONE FRIENDLY'.
SERVICE
GEM DRYERS are designed to require little maintenance. Should service be necessary, a team of trained technicians is available to answer your questions about installation, operation and maintenance or repair. A complete inventory of spare parts is maintained at the factory and channel partners & local service providers located all over India.
TECHNICAL SPECIFICATIONS
Nominal Capacity @
Maximum
Electrical
Air
Rated Power *kW
Model Variance
Pressure #
Connection
Connection
Base
B
F
cfm
m³/h
bar g
psi g
220V /
415V /
In / Out
Air
Water
Model
E
1Ø/50Hz
3Ø/50Hz
Cooled
Cooled
2KD+ 002
20
34
16
232
½"BSP(F)
0.15
2KD+ 004
40
68
16
232
½"BSP(F)
0.20
2KD+ 006
60
102
16
232
1"BSP(F)
0.40
2KD+ 008
80
136
16
232
1"BSP(F)
0.50
2KD+ 010
100
170
16
232
1"BSP(F)
0.60
2KD+ 015
150
255
16
232
1½"BSP(F)
0.90
2KD+ 020
200
340
16
232
1½"BSP(F)
1.20
2KD+ 025
250
425
16
232
2"BSP(F)
1.40
2KD+ 030
300
510
16
232
2"BSP(F)
1.60
2KD+ 040
400
680
16
232
2"BSP(F)
1.90
2KD+ 050
500
850
16
232
2"BSP(F)
2.30
2KD+ 060
600
1020
16
232
2"BSP(F)
2.80
2KD+ 075
750
1275
16
232
3"NB ASME Flg
3.80
3.00
2KD+ 100
1000
1700
16
232
3"NB ASME Flg
5.00
4.10
2KD+ 125
1250
2125
16
232
4"NB ASME Flg
5.70
4.80
2KD+ 150
1500
2550
12.5
180
5"NB ASME Flg
6.80
6.20
2KD+ 200
2000
3400
12.5
180
6"NB ASME Flg
8.70
8.00
2KD+ 250
2500
4100
12.5
180
6"NB ASME Flg
11.00
9.60

@ - Flow capacities in accordance with ISO 7183, air suction of FAD Model
20°C (68°F), 1 bar (14.5 psi) at the operating conditions mentioned Nomenclature :
below
# - Voltage range 200 to 240V for 1ø & 380 - 420V for 3ø
* - Rated power is the max power consumed at conditions as per ISO 7183 Option 2
NOTE: Above models are with Reciprocating type refrigeration compressors. For Scroll type compressors, please refer to GEM
SHIPPING DETAILS
Base Model
Machine Dimensions in mm
Net Weight in kg
Length (A)
Width (B)
Height (C)
2KD+ 002
360
425
500
45
2KD+ 004
360
425
500
47
2KD+ 006
450
550
610
80
2KD+ 008
450
550
610
85
2KD+ 010
700
700
830
120
2KD+ 015
700
700
830
130
2KD+ 020
700
700
830
140
2KD+ 025
900
900
1230
160
2KD+ 030
900
900
1230
160
2KD+ 040
900
900
1230
180
2KD+ 050
750
1000
1400
225
2KD+ 060
750
1000
1400
250
2KD+ 075
900
1200
1475
375
2KD+ 100
900
1200
1725
400
2KD+ 125
900
1200
1725
425
2KD+ 150
1300
1800
1650
650
2KD+ 200
1300
1800
1900
800
2KD+ 200
1300
1800
1900
850
Sizing Conversion Factors:
Operating Condition
| | | |
| --- | --- | --- |
| | Rated / Ideal | Maximum |
| Inlet Temperature | 45 | 60 |
| Ambient Temperature | 40 | 50 |
| Inlet Pressure | 7 bar (g) | 16 bar (g) |
| Pressure Dew Point | 3 | |
Dryer Normal Capacity =
Compressor Actual Capacity
C1 × C2 × C3 × C4
Inlet Temperature (C1)
| | | | | | | | |
| --- | --- | --- | --- | --- | --- | --- | --- |
| Temperature °C | 30 | 35 | 40 | 45 | 50 | 55 | 60 |
| Correction Factor | 1.2 | 1.15 | 1.05 | 1.0 | 0.85 | 0.8 | 0.7 |
Ambient Temperature (C2)
| | | | | | | |
| --- | --- | --- | --- | --- | --- | --- |
| Temperature | 25 | 30 | 35 | 40 | 45 | 50 |
| Correction factor | 1.2 | 1.14 | 1.1 | 1.0 | 0.9 | 0.8 |
Inlet Pressure (C3)
Inlet Pressure
bar (g)
4
5
6
7
8
9
10.5
11
12.5
13
14
15
16
psi (g)
58
73
87
100
116
131
150
160
180
189
200
218
232
Correction Factor
.
0.75
0.85
0.95
1.00
1.06
1.11
1.15
1.18
1.20
1.22
1.23
1.25
1.28
Dew Point (C4)
| | | | |
| --- | --- | --- | --- |
| Dewpoint in C | 3 | 7 | 10 |
| Correction Factor | 1.0 | 1.15 | 1.3 |
Click Here
Download brochure of COMPRESSED AIR DRYER 2KD+ SERIES