HEATLESS AIR DRYER - SPD SERIES
SALIENT FEATURES
Compact in size
Ease of operation
Light weight
Non-corrosive Aluminium body
Aesthetic look
Silent - low purge noise
TOWER
Non-corrosive Aluminium body
Amply sized to save heat of adsorption.
Large desiccant candle, ensures sufficient contact time to produce -40°C dew point (-60°C with Molecular sieves).
Each tower is provided with pressure gauge.
FILTERS
Each dryer is equipped with a Pre-filter to protect desiccant from free water contamination, dust, scales, etc.,and an after-filter to avoid desiccant dust carry over.
PRESSURE GAUGE
Pressure gauges on each tower for easier illustration of working of dryer.
VALVES
Highly reliable solenoid valves, to international standards,which act as main flow and exhaust valves.Precision orifice for highly accurate purge flow.
GENERAL FEATURES
Well designed mounting brackets
Purge exhaust muffler for noise control.
Highly accurate electronic timer.
Dried air as per requirements of ISO 8573-1 class 3-3-4.
Designed to meet the requirements of ISO 7183.
Quick exhaust facilitates sudden de-pressurization & thereby better regeneration.
Re-pressurization cycle to avoid desiccant dusting.
Designed for efficient working with least pressure drop.
Powder coated for aesthetic look and additional protection.
WHY SUPER PACK INSTEAD OF OTHER DRYERS?
Occupies no floor space as it is wall mounted.
Easy to operate.
No moving parts and hence high reliability.
Least maintenance required.
Electronic timer enables accurate cycle timing.
ACCESSORIES
Auto Drain Valve for filters
TECHNICAL SPECIFICATIONS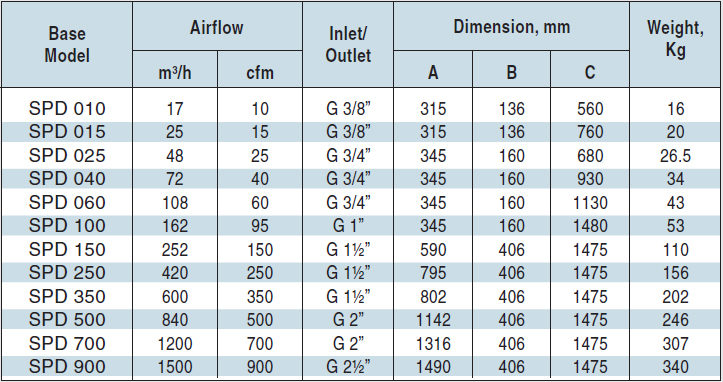 OPERATING CONDITIONS
Ideal

Maximum

Working Pressure
4 bar to 10 bar
12 bar
Inlet Temperature
40°C
50°C
Atmospheric Dew Point
-40°C
-60°C
Cycle Time
4 minutes
Electrical
220V / 50 Hz / Single Phase

* Product Design and specifications are subject to change due to constant upgradation.

Click Here
Download brochure of HEATLESS AIR DRYER - SPD SERIES